Common thread of tradition and respect
Everything starts with the yarn and the fibres. Every carpet and every floor covering starts as a bobbin of basic yarn, millions of yarns that are processed into one whole. The people behind Tapibel know the world of carpet like the back of their hand. We have been true carpet masters for over fifty years, producing both tufted and needle felt carpet. We have been passing on the knowledge of carpet production from generation to generation since 1970.
You can see, hear and feel our tradition: in the authentic factory, in the innovative products, but above all, in the people behind Tapibel. What is our common thread? Respect. Respect for each other, our products, the machines and of course, our customer. The relationships we establish with customers and employees are always sustainable, open and honest.
We work with machines to manufacture our carpets and carpet tiles, but humanity is the central theme. Our employees man the machines, fill them, adjust them and check the carpets carefully. It's all in the details. Quality and service are key, loose ends (and loose threads) don't stand a chance. Most of our tufted carpets are intended for the contract market for use in offices, hotels and public buildings. Our needle felt carpet is in demand in the event sector.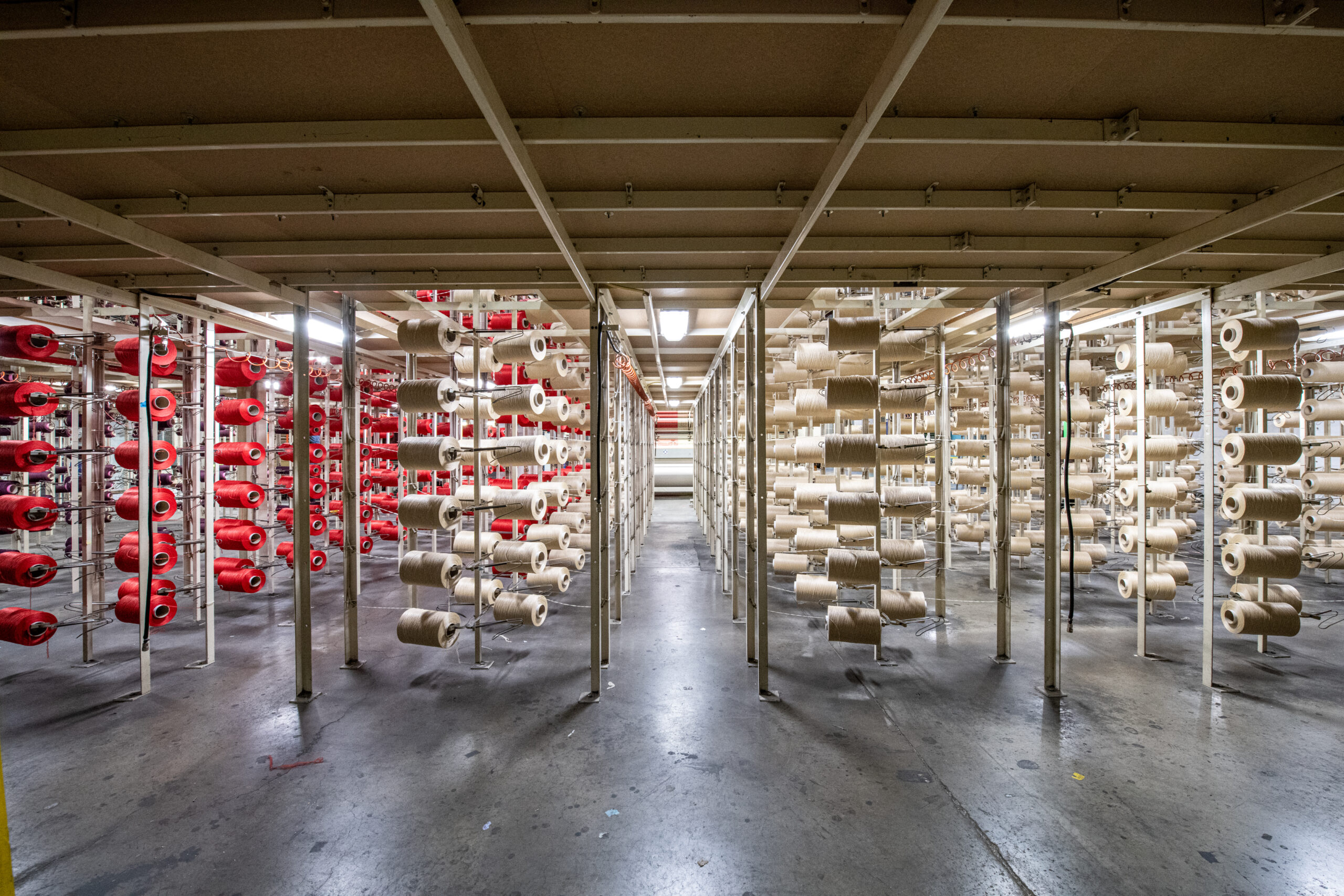 Strong cohesion
The yarn is processed in the tufting machine. Whether we make a loop pile or cute pile, we always produce a strong and durable carpet. Our employees and customers also strengthen our operation. We prefer to call them "family" because it describes our relationship so much better. They are inextricably linked to Tapibel and have worked for decades to make the company what it is today. Each and every day. Thanks to them, we can offer our high-quality products and services.
Flexible connection
The carpet is finished with a strong adhesive compound that holds and connects all the yarns or fibres together. The result is that it forms one whole and remains in good condition. Flexibility and connection form the basic yarn of Tapibel. We are prepared to develop and make tailored solutions to our customers. Do you need a smaller number of square metres or maybe more? Do you need a special carpet for an event? We can talk about it. We want to get to know you as a customer and build a strong bond. And we prefer to do that informally.
Global carpet
The result is global carpet. We use the word "Global" because Tapibel is a Belgian carpet producer with an international character. We serve customers all over the world. We have customers as far afield as Finland to Cyprus, and from Iceland to Dubai. That means that we naturally take the traditions, customs and trends of the countries to which we export our products into account.
Our carpets and approach are a great fit for today's world because we consider ecology and sustainability to be of paramount importance. We are always looking for ways to make our carpet production more sustainable and ecological. Find out more about all our sustainable initiatives here.
We keep our promises and make our promises achievable and tangible.
From basic yarn to carpet, Tapibel is a known, reliable player in the carpet industry. We continue innovating and focussing on (the carpet of) the future without losing sight of our common values.
Do you have a question about how we work, or a question about one of our collections?